Bollywood well-known Actress Kangana Ranaut has recently shared her memories of playing with her nephew in the water park. She has shared about this on her Instagram account. She has shared about her good and memorable time which she has shared with her nephew at the water park of Budapest.
Kangana Ranaut post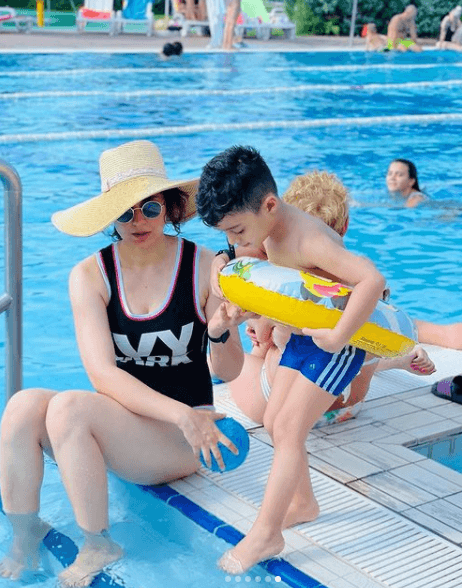 On Saturday, Kangana Ranaut has shared her memorable pics on her Instagram account. In that account, we can see her playing and spending a good time with her nephew, Prithvi. She has added some caption with that. She wrote," A Day with my kiddie…. in a water park ha ha I am not a water person at all and he loves water but I enjoyed it maybe because he was so thrilled to be there …… I guess that's what love is about ". Over here "Kiddie " word, she has used for her nephew Prithvi. She shared that she is not a water-loving person but she enjoyed playing in the water with her nephew.
On this, her fans have reacted with great joy. They have shown their love to her and her's nephew's pics. They have also praised their fun and loving time, which they have shared with themselves. One of them wrote," Enjoy the family time !!! "," Cute baby with cute masi ", and many more such comments are there. She is very close to her nephew. She has shared a bunch of pictures of her with her nephew at Budapest Water Park.
Kangana has recently finished shooting her upcoming film "Dhakad". She has given so many hit Bollywood movies, some of those are "Queen ", "krish 3" in the opposite of Hritik Roshan. "Manikarnika " as a Queen of Jhansi. " Shootout at wadala " opposite John Abraham.
For more interesting stories visit us on :- https://bollywoodcelebritynews.in