Pratik Sehajpal got injured his nose. After this Tejasswi Prakash and Devoleena Bhattacharjee had a great solid fight among themselves.
As Big Boss season 15 is inching towards its finale, for which contestants in this stage have to give a great fightback to show their precedence and to grab the trophy of the winner. Before that contestants are playing with their best capability. Recently we have seen that Shamita Shetty was sanchalak of the recent game. According to that game they have to bring the all spare parts of the cycle and they have to make a cycle. During this Pratik and Tejasswi Prakash were opposite each other.
Pratik Sehajpal got injured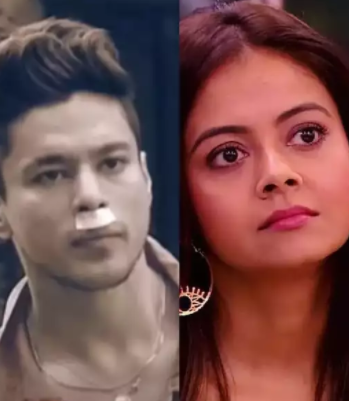 We have seen that Tejasswi Prakash was constantly hitting Pratik with her spare parts of the cycle. On this she was giving the reason that physically she is weak so, she is using that for her defense. She has also added that Pratik Sehajpal is constantly disturbing her. On this Pratik said that he has not even touched her. On this Shamita Shetty said Tejasswi Prakash not to hist Pratik Sehajpal . After getting back from the game Tejasswi Prakash was crying and saying, "I am too busy playing the sympathy card now."
Later Pratik has got his nose to be injured and it was bleeding. Big Boss calls him a room of medical. Over there, his nose got treated. During this Devoleena came to know about this situation. On this Tejasswi Prakash said that Karma pays back to him. On that Devoleena Bhattacharjee can't control her emotions and she started crying continuously. After that, she turned towards Tejasswi Prakash and yelled at her. After that, they started to fight.
Devoleena said," Think before you speak, Tejaswi. Get your sense back." To Tejasswi Prakash. After that, she blamed Tejasswi Prakash for hurting Pratik Sehajpal.
For more visit us on : – Bollwod Celebrity News