Rakhi Sawant flipping strategy has to make Devoleena Bhattacharjee and Rashami Desai fight with each other.
Big Boss season 15 is inching towards its end, and contestants are very competitive at this time. They all are giving their best to grab the trophy of the winner. During this contestants have to go through with so many of the challenges during these days. During one of the tasks, Rakhi Sawant flipping strategy has made Devoleena Bhattacharjee and Rashami Desai fight with each other. They have almost tried to each other during this strategy of Rakhi Sawant.
Rakhi Sawant , Devoleena and Rashami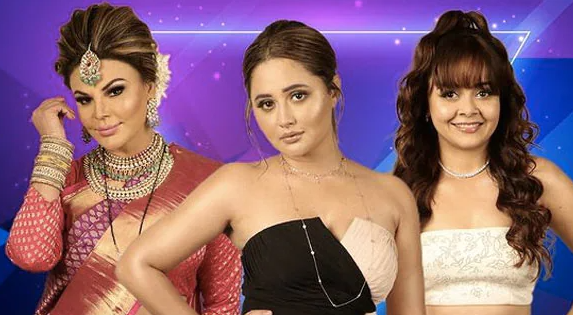 During the game, Rakhi once approached Devoleena Bhattacharjee and said to her that she will make her win the game. After that, she reached out to Rashami Desai and said," I will tell Devoleena that I will make her but then I flip and make you win". After a few times, she reached towards Rashami Desai. Rakhi said to her," Devoleena doesn't want me to play for you. So I can't do anything." After that, she was constantly saying that she will flip and change the game.
After watching all this stuff a few times Rashami Desai has lost her temper and started screaming. Rashami Desai said that Devoleena Bhattacharjee is using Rakhi for herself and Rakhi Sawant is letting her use herself. On this Rakhi Adatia has also shown his support to Rashami. On this Rashami Desai turned towards Rakhi Sawant and said," Sab uske kehne pe karegi kya."
Later Devoleena said to Rakhi," Mujhe jeetao, usko harao"(Make me a winner and Rashami Desai a looser). After that Rashami Desai was crying and telling that Devoleena is a liar and she is using others for herself. Rashami Desai said," Jhuthi, logon ko istemal karti hai". Later Devoleena raised her hand and said," How dare you to touch me".
For more visit us on :- Bollywood Celebrity News