Kareena Kapoor Khan and Twinkle Khanna share the talk on doing a film with Akshay Kumar.
By remembering Akshay's first shot and where was she at that time, Kareena said,
"I am romancing all of Lolo's (Karisma) co-stars, it's so weird. (During) Akshay's first shot, I was in my school uniform. It's been such a long time, it just shows how amazing he is rather than me."
Akshay has also shared his memory of when Kareena Kapoor Khan has visited him when she was a kid at the Hindustan Times Leadership Summit. He added,
"When I was working with Karisma Kapoor back in the day, Kareena was so young that I would lift her up and play with her. And today she is my heroine."
By interrupting the talk of Twinkle Khanna, Kareena said,
                                      "But now we are proving them wrong."
Kareena Kapoor and Akshay 's Chemistry Talk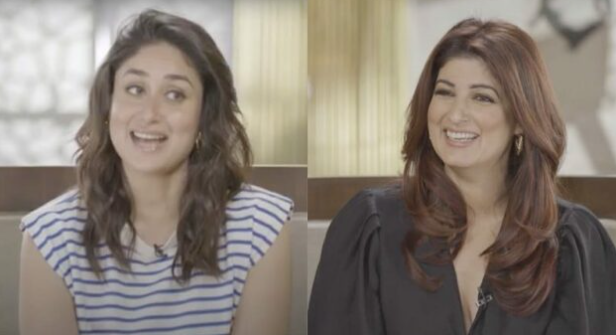 Further by cracking a joke Kareen Kapoor Khan has added that she would like to do a film with Akshay Kumar until the age of 75 years. She has added this by stating," he will still be working.
"He is already planning a two-hero film with Taimur, he's already told me that."
Kareen Kapoor Khan (41) and Akshay Kumar (54) have done so many films together. In the most recent film, they have appeared in Good News . With that they have appeared in this film . They have commenced Talaash: The Hunt Begins…(2009), Dosti: Friends Forever(2005) , Tashan (2008) , Kambakkht Ishq (2009) , and Good Newws (2019), Ajnabee(2001)and so many . Audience were impressed by their coupling in all of these film . Their chemistry has attracted viewrs on the onscreen . After that Akhay Kumar has also done so many of the films with Karishma Kapoor also . They have appeared in fim Deedar (1992) , Suhaag (1994), Jaanwar (1999) Haan Maine Bhi Pyaar Kiya (2002) and many more
For more visit us on :- Bollywood Celebrity News