If celebrity weight loss stories are good enough to give you some much-needed fitspiration, Anant Ambani's drastic transformation must have served as a major inspiration.
Anant Ambani is now an inspiration to many. His story had a lot of unexpected twists and turns. Due to his physical appearance and obesity, he was not liked much. Let's take a glimpse at his life story.
Anant Ambani is the son of India's richest business tycoon Mukesh Ambani (and mother Nita Ambani). Anant Ambani drew the attention of the media with his overweight body. But he inspired many youths who are suffering from the very problem. Anant Ambani lost almost 108 kilos in just 18 months without any artificial treatment.
Incredible weight loss transformation
Anant did a massive workout under professional guidance. His fitness regime included a 21km walk, yoga, weight training, functional training, and high-intensity cardio exercises. He also followed a zero-sugar, low-carb diet, with adequate fat and protein.
The young Ambani worked closely with physicians and celebrity trainer Vinod Channa, who helped him through a rigorous diet and fitness program. Like many other fitness enthusiasts, Anant Ambani's diet for weight loss focused on high-quality protein and fiber, while being low in carbs. An important aspect of the fitness routine was walking. Walking is highly regarded as one of the best ways to lose weight.
Anant Ambani's trainer Vinod Channa is one of the most preferred Celebrity Trainer and recognized Fitness Consultant for varied health aspects such as Weight training. Channa has trained many Bollywood stars including John Abraham, Riteish Deshmukh, Shilpa Shetty Kundra, and Ayushmann Khurrana.
"Anant Ambani's body transformation was teamwork. This is not only done by me but it was the effort of Anant and Dr. Andre Chimone as well. In my 22 years of career, I have never seen a person with so much dedication," said Channa.
Ambani's son has been known to suffer from chronic asthma, and it is said that the medication had led to his weight gain. But Anant was apparently determined to shed the extra flabby his 21st birthday, and he has. The uphill task that spanned over 500 days included exercising for four-five hours daily.
Mother Nita Ambani is reported — and justifiably — very proud of her son, and is said to have been floored by her son's dedication and effort.
Salman Khan's message to Anant Ambani
"So happy to see Anant Ambani,lots of respect n sooo happy fr him. Takes a lot of willpower to loose 108kgs in 18mnths," Salman Khan wrote.
Kapil Sharma posts a comment on Ganesh Acharya and his weight loss, his tweet goes viral
The Kapil Sharma show is a comedy show hosted by famous Indian comedian Kapil Sharma. The show has surpassed all other shows in the same genre in India. Kapil Sharma is a famous comedian actor who gives everyone a reason to smile in this busy world. The comedian-actor Kapil Sharma has worked really hard to reach the stardom that he enjoys now. The show has grabbed the top position in TRP ratings and has become the most-watched channel across the country.
Kapil charges a hefty amount for his weekend episodes of the hugely popular celebrity chat show The Kapil Sharma Show. While Bollywood and other entertainment personalities grace his show every week, Kapil's towering personality and fame surpass everything and his fees for the show are proof of the same.
If sources are to be believed, Kapil Sharma has hiked his fee to Rs 1 crore for weekend episodes of The Kapil Sharma Show. His high fees is often the subject of jokes for his fellow performers like Krushna Abhishek and Bharti Singh, but the aforementioned amount certainly puts him in the big leagues of celebrities in the telly world.
The Kapil Sharma Show airs two episodes per week, on Saturday and Sunday, which makes his per-episode fees something close to Rs 50 lakh.
Kapil Sharma posts a hilarious tweet on Ganesh Acharya
Not long ago, the celebrity dancer and choreographer, Ganesh Acharya shared a weight loss journey of about 98 kgs. His tremendous transformation took the internet by surprise.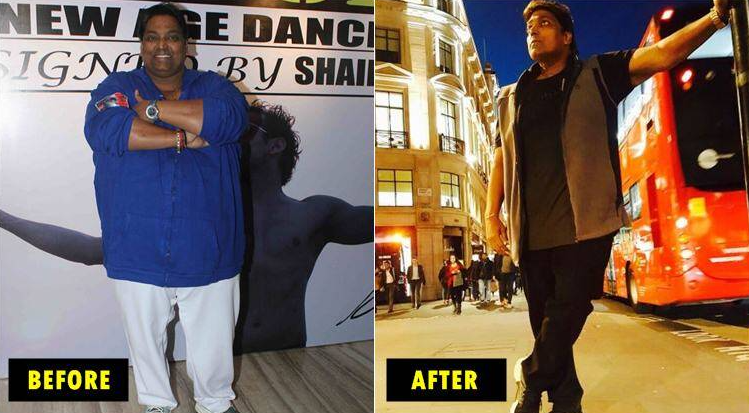 A year ago in an interview with HT, Ganesh came out with his difficulty with his weight. He said: "It was very tough for me. For the past one-and-a-half years I have been working on my body. After putting on around 40 kgs for my film Hey Bro, my weight touched 200 kgs. I have to shed that now."
When the promo of the popular Kapil Sharma talk show was released and netizens could not believe the sudden change that they were seeing, Kapil hilariously commented on Ganesh Acharya saying: "Chote chote shehro me 46-46 kilo ke aadmi hotey hai. Do aadmi gayab kar diye apne (In smaller towns, you will find men who weigh around 46 kgs. You made two men disappear!)."
Source : theyouth.in