In the fight between Shamita Shetty and Tejasswi Prakash, netizens supported Tejasswi Prakash and some of the fans of Shamita Shetty have stopped their fan followers has shifted to Tejasswi Prakash following club.
Big Boss season 15 is inching towards its end and with that contestants are trying to grab the trophy of the winner in the Grand Finale of the Big Boss season 15. In the recent episode of this season, we have seen that Shamits Shetty was seen climbing on the back of Karan Kundrra (boyfriend of Teja ). On this Teja warned Shamita Shetty that Karan is not Raquesh Bapat. And also said her to mind her behavior as Karan Kundrra is her boyfriend. There are so many fans of the Shamita Shetty who have shifted towards the Teja following.
Tejasswi Prakash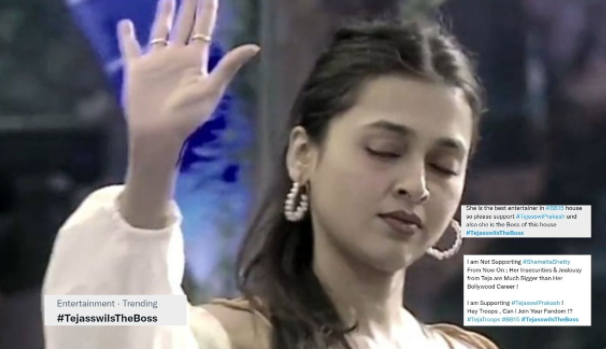 After this Tejasswi's fans have supported her for her action. They said that Shamita Shetty is crossing her limits because of her insecurities and jealousy. There are some of the fans of Shamita Shetty have shifted their fan following to Teja. One of the fans wrote," "I am not supporting #ShamitaShetty. From now on; her insecurities & jealousy from Teja are much bigger than her Bollywood career. I am supporting #TejasswiPrakas . Hey, troops can I join your fandom?".
While another friend wrote," She is the best entertainer of the house. So please support Tejasswi. And also she is the Boss of the house."There are so many of the fans of Big Boss who are following the trend of #Tejasswiis the Boss of twitter. After that Karan Kundrra and Tejasswi Prakash had a great fight between them. They have fought during the live feed but the reason for their spat is still unknown.
For more visit us on :- Bollywood Celebrity News